R&D/Manufacturing
Autonics is dedicated in providing top quality products to our customers. To accomplish our mission we are heavily devoted to R&D and manufacturing. Our dedicated R&D centers and our global manufacturing facilities work to make sure we deliver the best products possible.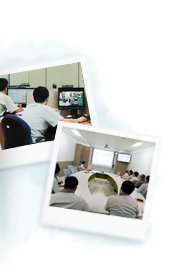 Research Development
The Brain Power Opening the Future of Autonics – Autonics R&D Institute
The most important force behind the success of Autonics has been constant technical innovation and R&D, and Autonics' R&D Institute has been at the center of this effort.
Since establishing the R&D Institute for Control & Measurement in 1990, we have focused all efforts on the development of technologies and products. After establishing an additional R&D Institute for Sensors. Autonics believes that technology and quality products are essential for customer satisfaction.
Manufacturing
Customer satisfaction through global standard quality.
 Autonics has continuously invested in the development of ultra-precise and high-quality control equipment and has introduced advanced and unique quality control systems.
As a result, we have obtained global standard certifications such as ISO9001, UL, CE, RoHS, etc., and now export qualified products to over 100 countries around the globe. In 2007, Autonics established our newest and most advanced manufacturing facility, in order to provide more cost effective products to the market and lay the groundwork for broader global distribution of products.