Description
Easy maintenance with detachable sensor head/amplifier unit
Maximum resolution: 1㎛ (vary by model)
Accurate measurement regardless of target color or material
Interconnection of up to 8 sensor amplifier units
: Mutual interference prevention function and auto channel sorting
Various calculation functions supported (addition, subtraction, average)
Various filter functions for stable measurement (movement average, differential, median)
Auto sensitivity adjustment (1-point, 2-point teaching)
DIN rail and wall mount support (bracket accessory required for wall mount)
Sensor head: IP67 protection structure
Accurate Displacement Measurement on Various Materials
The sensors can accurately detect various target material or color including black/white paper, stainless steel, rubber, PCB, etc.
Easy Configuration with Movement Average, Differential, and Median Filters
Movement average, differential, and median filters allow for accurate and stable correction in measurement values in the event of sudden changes from mechanical noise or other variables.
Median filter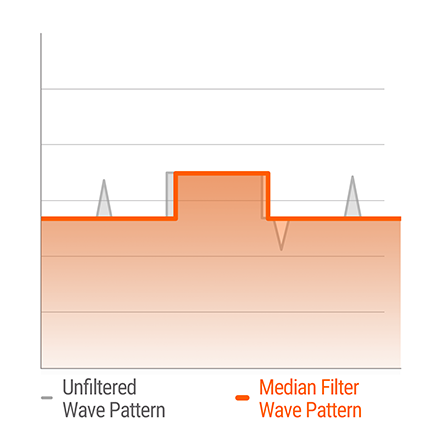 removes any sudden value changes.
Movement average filter

averages the measured values to reduce the overall changes to the measurement values.

Differential filter

transmits the differential value between current and previous measured values. Used to measure sudden changes in value.

Various Calculation Functions

Supports various calculation functions (OFF, ADD-AB, SUB-AB, AVG)
– OFF: independent measurement (calculation function not used)
– ADD-AB: Adds the measured values from sensor heads A/B (used to measure thickness)
– SUB-AB: Subtracts the measured values from sensor heads A/B (used to measure level difference/ disparity)
– AVG: averages the measured values from all connected sensor heads (used to measure evenness)
– Cannot use more than 2 calculation functions with interconnected sensor amplifier units

Interconnection of Sensor Amplifier Units and Mutual Interference Prevention

Up to 8 sensor amplifier units can be interconnected. The channels for the amplifier units are automatically sorted when connected together. (Each sensor amplifier unit requires independent power supply)

Videos