Description
Main Features
Slim and elegant design
LED display allows real-time monitoring of control input, load voltage, load current, load power, load resistance, and heat-sink temperature
Stable control with feedback control (constant current, constant voltage, constant power)
Communication output models available: RS485 (Modbus RTU)
Parameter configuration via PCs (RS485): Free device management software (DAQMaster)
Various alarm functions (alarm output) : overcurrent, overvoltage, heater disconnection, fuse break, heat-sink overheat, diode (SCR) error
Easy installation with mounting brackets
Easy fuse replacement and maintenance
High performance SCR (IXYS) diode
Slim Size Measuring Only 55 mm Wide
The SPR1 series power controllers are approximately 50% slimmer than similar models from other brands, making it easier to install in limited spaces.
25A/35A/50A/70A models only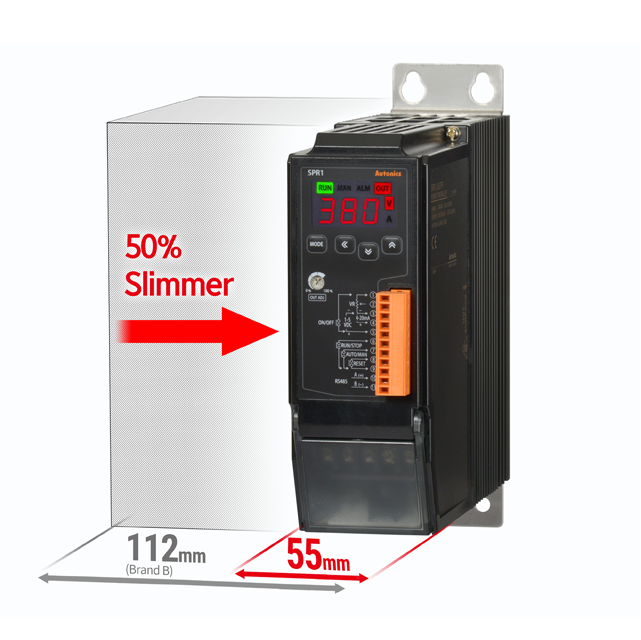 Bright LED Display
The 3-digit, 7-segment LED display allows real-time monitoring of control input, load voltage, load current, load power, load resistance, and heat-sink temperature without requiring connection to an external display device.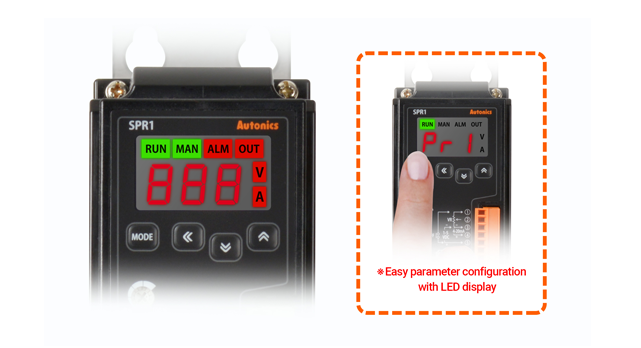 Feedback Control Option
The SPR1 series power controllers support cycle control, phase control, ON/OFF control methods with option for constant voltage, constant current, and constant power feedback control with ±3% output accuracy. The controllers can handle various types of loads including nichrome, molybdenum, and silicon carbide.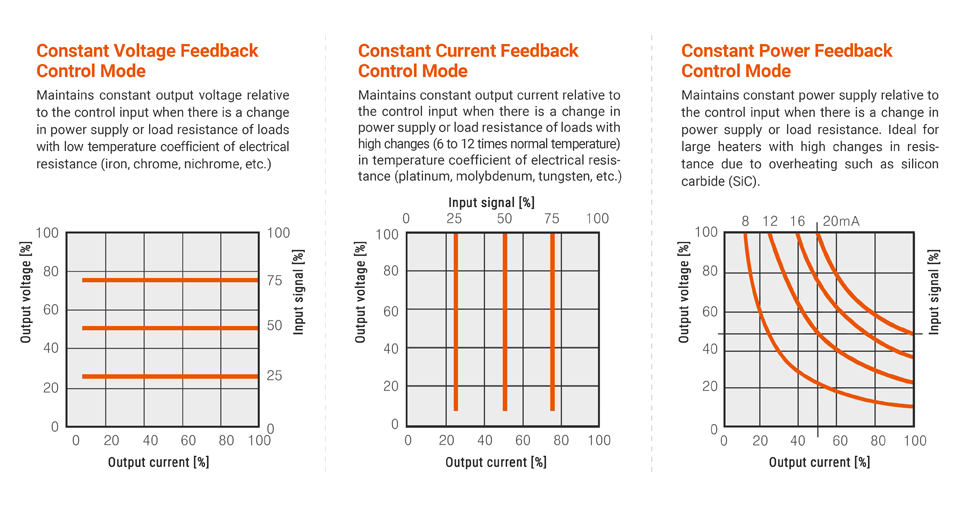 Various Functions
The power controllers feature various operation functions including Soft Start, Soft Up/Down, Input Correction, and Input Slope Correction. The functions allow safer operation, load protection, and accurate power control.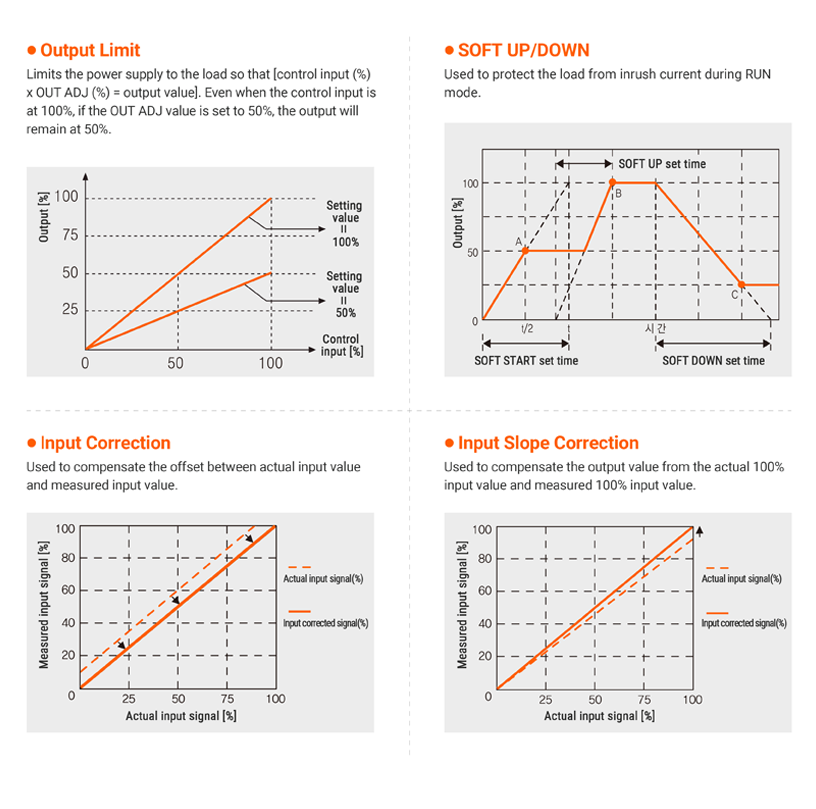 Various Alarm Functions
Error messages (displayed on screen) and alarm indicator (ALM) will blink simultaneously and notify the users if there are operation errors such as diode error, overcurrent, overvoltage, fuse break, heat-sink overheating, or heater disconnection.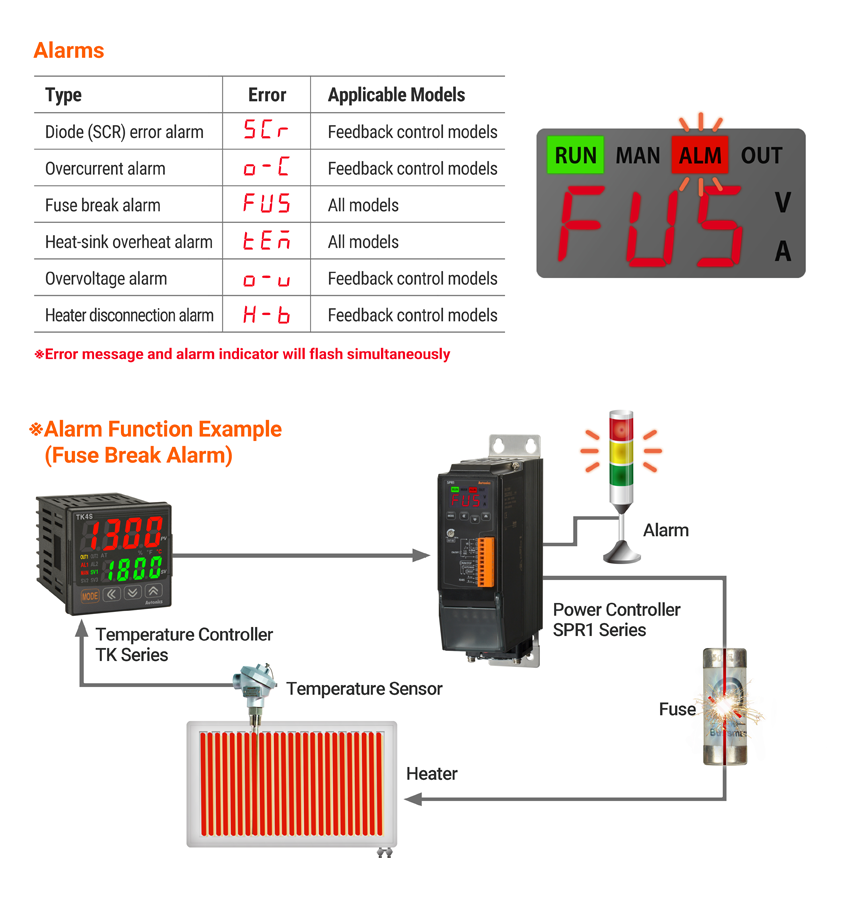 Simple Fuse Replacement
The fuse in the power controllers can be replaced easily just by removing a few bolts.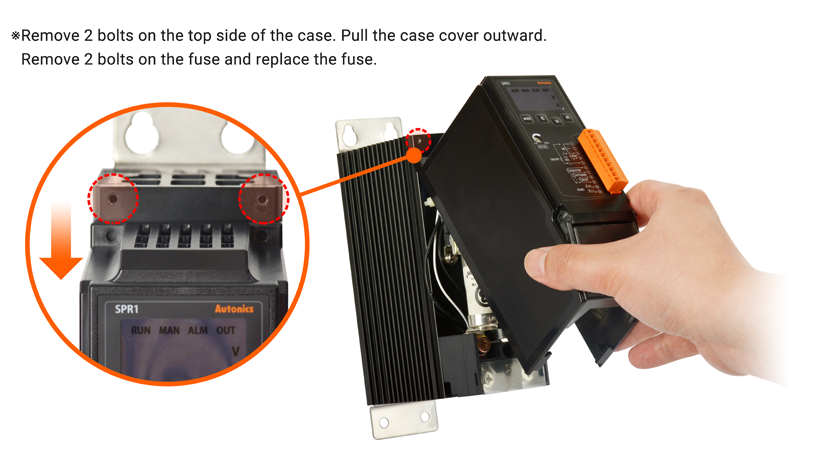 Application
SPR1 series single-phase power controllers used in reflow ovens to accurately control temperature using feedback control.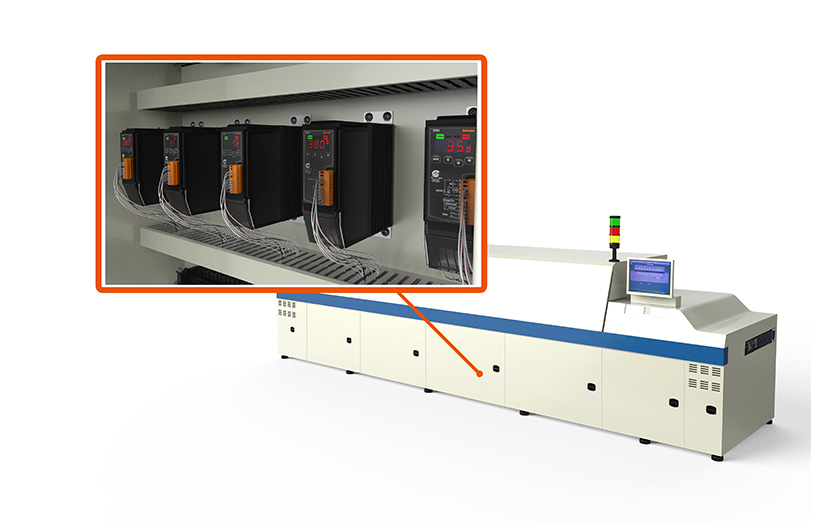 Videos