Description
Rated input voltage : 10-30 VDC, 90-240 VAC
Rated load voltage : 24-240 VAC, 48-480 VAC
Rated load current : 10 A, 15 A, 20 A, 25 A, 40 A
Zero cross turn-on, random turn-on models available
Input indicator (green LED)
Alarm function (overheating)
– Rated load voltage 10 A, 15 A, 20 A, 25 A : alarm indicator (red LED)
– Rated load voltage 40 A : alarm output, alarm output indicator (red LED)
DIN rail mount or panel mount installation
Left/Right Terminal Layout
The SRHL1 series features a left/right terminal layout offering more flexible installation options. Single phase solid state relays from Autonics is also available in top/bottom terminal layout for application in diverse user environments.
Zero Cross Turn-On/Random Turn-On Models Available

Zero Cross Turn-On
The relay switches ON/OFF when the voltage reaches the zero-crossing point of the sine wave. This method minimizes surge current and inrush current, and is ideal for most common industrial loads.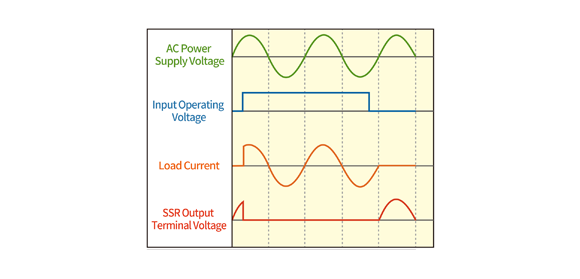 Random Turn-On
The relay opens or turns on immediately when the input signal is applied and turns off when the signal is removed. This method allows phase-control applications requiring precise power control.
Alarm Function (Overheating)
The alarm output and indicator (red LED) turns on in case of overheating due to product damage or overcurrent, providing safer operation for users.
※ Available models: SRHL1-1240/4240/1440/1440R/4440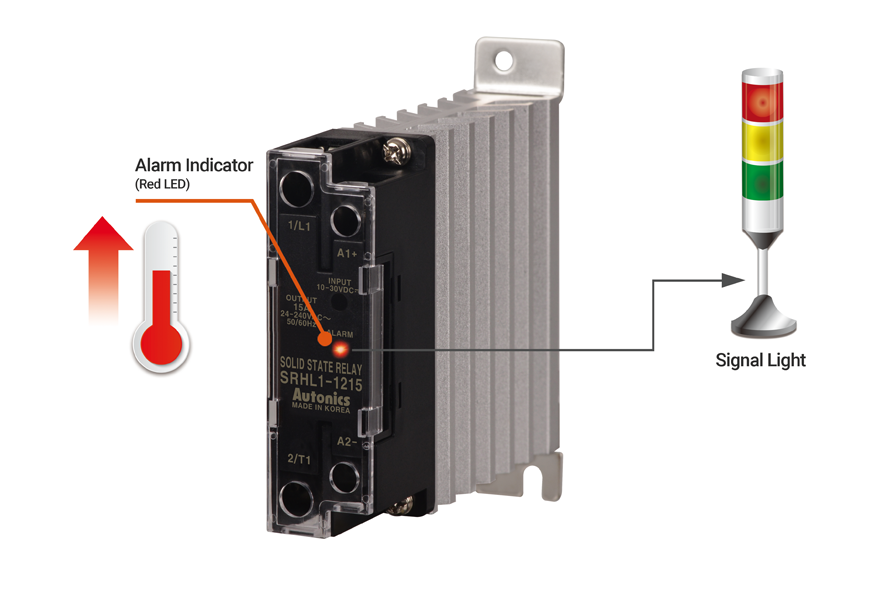 Check Operation Status
Users can easily check the operation status of the solid state relays through input indicators (green LED)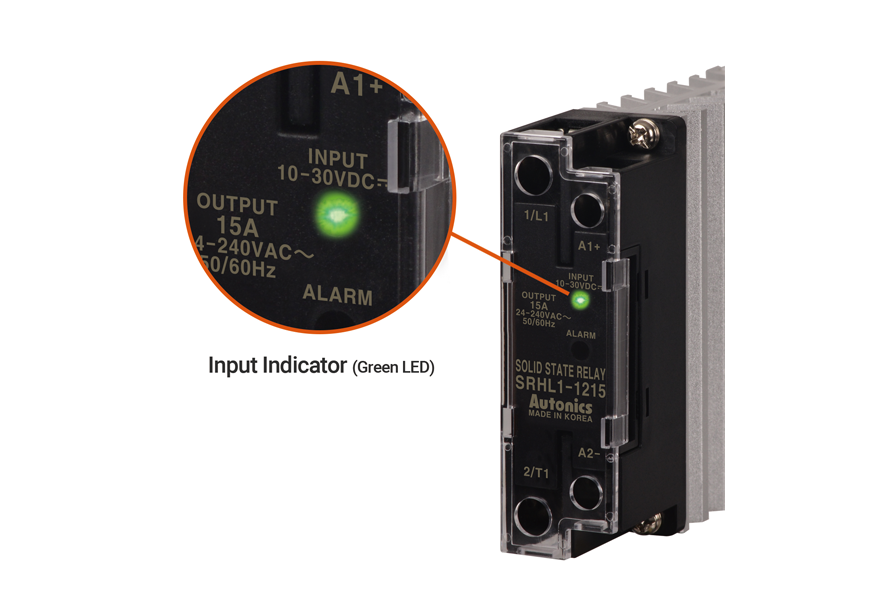 Various Installation Methods
The solid state relay units support both DIN rail mount and panel mount methods providing more installation flexibility