Description
LCD display with easy-to-read white PV characters
Isolated input and power modules allow powering of multiple units using a single power supply
Compact, space-saving design (rear-length: 20 mm)
: reduced rear-length size by 78% compared to same DIN size panel meters (MT4W)
Various input options (by model)
– Input options: DC/AC voltage, DC/AC current
Maximum allowed input: 500 VDC, 500 VAC, DC 5 A, AC 5 A
Display range: -9999 to 9999
High/low-limit display scale function
AC frequency measurement (range: 0.100 to 1200 Hz)
Preset output: OUT1, OUT2 (NPN/PNP open collector output)
Power factor display/output function
: displays analog outputs (1-5 V, 4-20 mA) from power factor converters as -0.50~1.00~0.50
Various functions
: peak display value monitoring, display cycle delay, zero-point adjustment, peak display value correction, etc.
Power supply: 24-240 VAC 50/60 Hz, 24-240 VDC universal
Large LCD Display with Easy-to-Read White PV Characters
Large LCD displays with large PV characters (display character height: 19 mm) allow easier status readings in diverse environments.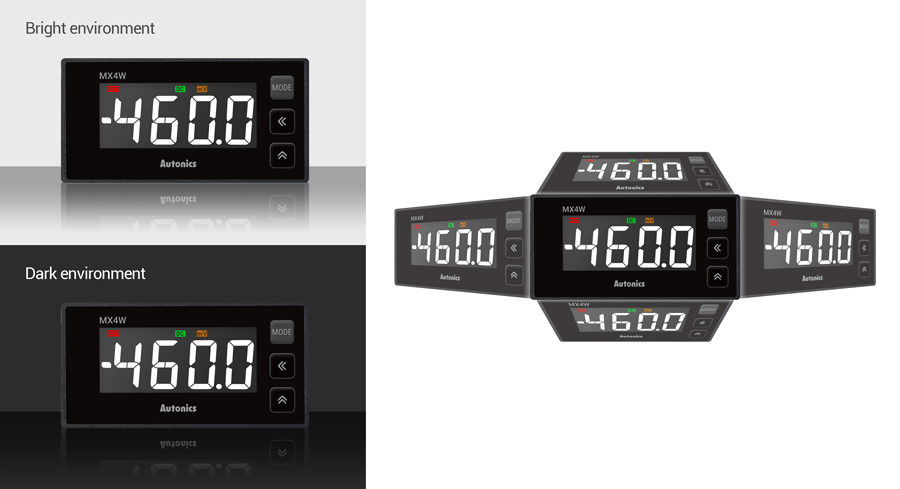 The display is highly visible from various viewing angles.
12-Segment Display Provides Improved Readability
The 12-segment display provides improved readability of alphanumeric characters.

Various Input Options Available
Various input options are available including DC voltage/current minus inputs, and also supports OUT1 and OUT2 preset outputs for flexible application in various user environments.

Compact Design with 20 mm Rear-Length
The rear-length size has been reduced by 80% compared to similar sized (DIN 96 x 48 mm) models (MT4W) from Autonics. The 20 mm rear-length size allows easy installation in limited spaces.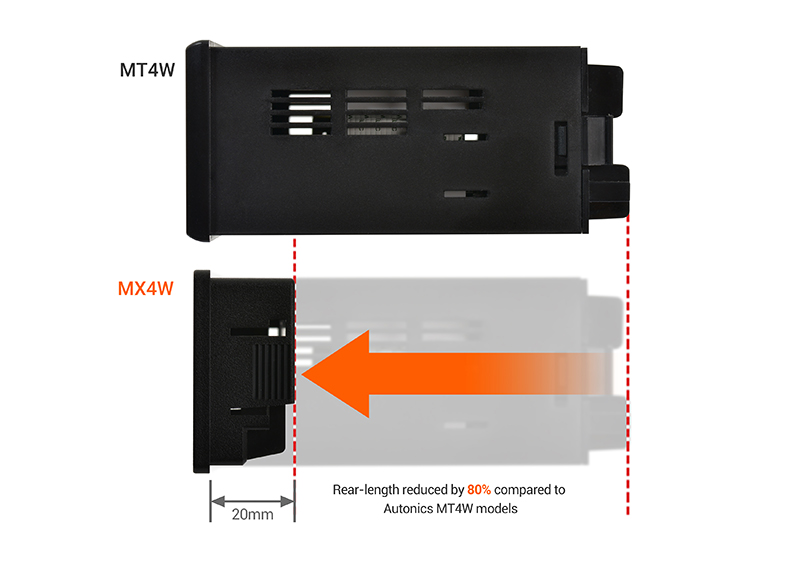 Isolated Input, Output, Power Supply Modules
The isolated input, output, and power supply modules allow powering of multiple units using a single power supply.
Power Factor Display and Output
Displays analog outputs (1-5 V, 4-20 mA) from power factor converters as -.0.50~1.00~0.50, and output is also possible depending on the preset operation mode setup.
High/Low Limit Display Scale Function
The high/low limit display scale function allows users to choose and display the minimum and maximum value of target input.