Description
Slim and elegant design
LED display allows real-time monitoring of control input, load voltage, load current, load power, load resistance, and heat-sink temperature
Stable control with feedback control (constant current, constant voltage, constant power)
Communication output models available: RS485 (Modbus RTU)
Parameter configuration via PCs (RS485) : Free device management software (DAQMaster)
Various alarm functions (alarm output) : overcurrent, overvoltage, heater disconnection, fuse break, heat-sink overheat, diode (SCR) error
Easy installation with mounting brackets
Easy fuse replacement and maintenance
Interphase insulating barrier included
High performance SCR (IXYS) diode
Slim Size Measuring Only 105 mm Wide
The SPR3 series power controllers are approximately 30% slimmer than similar models from other brands, making it easier to install in tight or limited spaces.
※ 25A/35A/50A/70A models only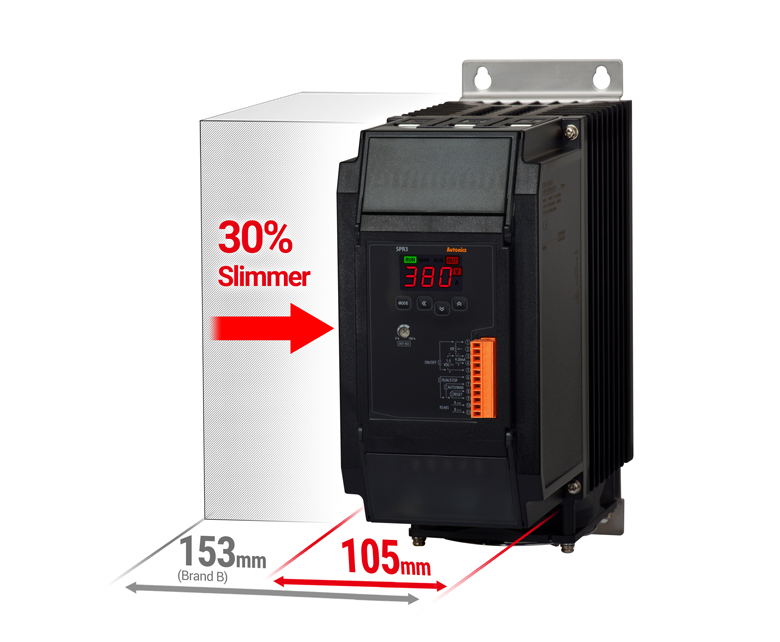 Bright LED Display
The 3-digit, 7-segment LED display allows real-time monitoring of control input, load voltage, load current, load power, load resistance, and heat-sink temperature without requiring connection to an external display device.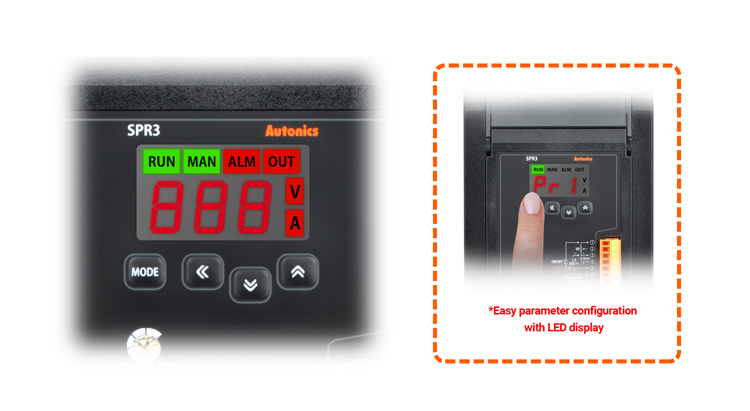 Feedback Control Option
The SPR3 series power controllers support cycle control, phase control, ON/OFF control methods with option for constant voltage, constant current, and constant power feedback control with ±3% output accuracy. The controllers can handle various types of loads including nichrome, molybdenum, and silicon carbide.
Constant Voltage Feedback Control Mode

Maintains constant output voltage relative to the control input when there is a change in power supply or load resistance of loads with low temperature coefficient of electrical resistance (iron, chrome, nichrome, etc.)

Constant Current Feedback Control Mode

Maintains constant output current relative to the control input when there is a change in power supply or load resistance of loads with high changes (6 to 12 times normal temperature) in temperature coefficient of electrical resistance (platinum, molybdenum, tungsten, etc.)

Constant Power Feedback Control Mode

Maintains constant power supply relative to the control input when there is a change in power supply or load resistance. Ideal for large heaters with high changes in resistance due to overheating such as silicon carbide (SiC).

Various Functions

The power controllers feature various operation functions including Soft Start, Soft Up/Down, Input Correction, and Input Slope Correction. The functions allow safer operation, load protection, and accurate power control.

Output Limit

Limits the power supply to the load so that [control input (%) x OUT ADJ (%) = output value]. Even when the control input is at 100%, if the OUT ADJ value is set to 50%, the output will remain at 50%.

Various Alarm Functions

Error messages (displayed on screen) and alarm indicator (ALM) will blink simultaneously and notify the users if there are operation errors such as diode error, overcurrent, overvoltage, fuse break, heat-sink overheating, or heater disconnection.

Input Slope Correction

Used to compensate the output value from the actual 100% input value and measured 100% input value.

SOFT UP/DOWN

Used to protect the load from inrush current during RUN mode.

Input Correction

Used to compensate the offset between actual input value and measured input value.

Various Alarm Functions

Error messages (displayed on screen) and alarm indicator (ALM) will blink simultaneously and notify the users if there are operation errors such as diode error, overcurrent, overvoltage, fuse break, heat-sink overheating, or heater disconnection.

Simple Fuse Replacement

The fuse in the power controllers can be easily replaced for integrated fuse type models.

Interphase Insulating Barrier Included

Interphase barriers can be installed for insulation between phases and reduce influence from conductive material. Interphase barriers can easily be installed or removed.

Videos